Who We Are
With experience designing, implementing and measuring effective public relations and marketing campaigns in corporate and agency environments, Sheri Chorlins founded Group C in 2004. In addition to her award-winning creativity and strategic approach, Sheri enlisted a few industry veterans to help her deliver the first-class work for which she is known.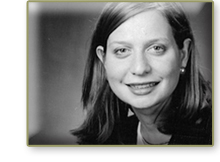 Prior to starting Group C, Sheri was Director of Marketing for Pace Properties, Inc., one of the region's largest and fastest-growing commercial real estate development and services firms. Before joining Pace, Sheri was a Senior Account Executive with Weber Shandwick, one of the world's largest public relations firms, where she managed national campaigns for clients including Solutia and Scott's Lawn Care and earned numerous awards, including the prestigious PRSA Silver Anvil.
Since launching Group C, Sheri has provided services to an impressive roster of local and national organizations including Crate and Barrel and Maggiano's Little Italy Restaurant. Through her contacts in Hollywood, she writes ad copy for the film and TV industries and has had her work featured in numerous publications including People magazine.
Sheri earned a Bachelors degree in Communications from the University of Missouri-Columbia and a Masters in Business Administration from FontBonne University.